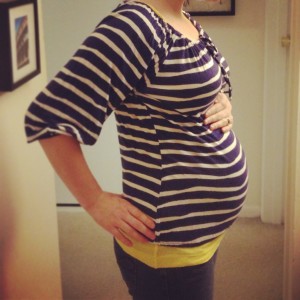 32 ÷ 4 = 8
Eight months pregnant you guys!
It's kind of blowing my mind that I hit eight months today. I mean, I'm 8 weeks from my due date. I guess 8 is my lucky number this week.
I had another check up yesterday and everything looks great. Baby boy is finally head down again which means I don't feel like he's trying to headbutt his way through my side anymore. Of course I am ridiculous and was a bit worried that, even though I was feeling him just as much, I wasn't feeling him as strongly. So, ya know, my brain instantly goes to oh em gee what if that means something is wrong?! My midwife said he switched positions though and that's likely why I'm not feeling him as strongly. Then naturally last night he was back to trying to kick his way out, only this time his escape plan was my ribs. I'm such a silly pregnant lady sometimes.
I've still been dancing at least twice a week. We're currently rehearsing for a performance in about a month and while I've been planning on performing I thought I better ask just to be safe. When I asked my midwife when I should plan on stopping dance her answer was my favorite thing ever. "When you're crowning." Well okay then. So if you want to see a nine months pregnant lady performing in a hip hop version of Alice in Wonderland let me know and I'll get you the details.
This coming weekend we're going to get maternity photos taken. It's a birthday present from my mom and I'm incredibly excited to see how they turn out. I'm not sure if we'll have them by next week but as soon as we get them I'll be sure to post.
Short update this week. I think it's mostly because I'm in shock over being eight freaking months pregnant. Eight.