Six years.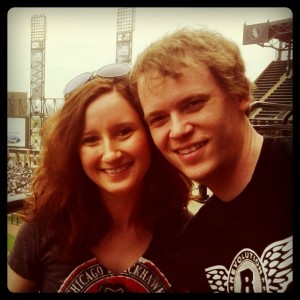 Wow.
That's how long Joel and I have been married, as of today.
If our marriage was a human it would be getting ready to go to first grade this fall.
It's amazing to me how much we've done and seen and grown in those years.
We've moved five times. We've both changed jobs more than once. We've visited five continents together. We adopted and have raised a pretty freaking awesome little dog who just turned three. We've driven from one end of the country to the other. We've visited twenty seven of the fifty states together.
We've fought and yelled and cried. We've very nearly called it quits. More than once. We've gone through the utter elation of expectant parenthood only to be crushed by losing the pregnancy.
I'm so glad we fought for our marriage and made it through the dark times though because they made us so much stronger.
Far outnumbering the downs there have been so many more times that we've joked and been silly and laughed till our stomachs hurt and tears were running down our faces.
I can be completely and totally myself around him. Whether myself at the time means talking in crazy cartoon voices at the dog, being a raging lunatic who needs chocolate right this second, or just really wanting to cuddle, he takes it in stride.
I have never known anyone so well.  In the car today all he had to say was "Is this going to be like the time when…" and I could already say yes because I knew the end of the question. Yep, we have officially turned into that annoying couple that finishes each others sentences.
He is truly my best friend. He is an amazing lover. He is brilliant and creative. Every time I see him around kids I can see what an incredible daddy he will be someday. He treats me like a queen and rarely asks for anything in return.
I am not the same person I was when I said I do six years ago. Joel is very different as well. The best part of marriage is making that journey to a new a better version of yourself with someone you love at your side. Life is one big adventure and I couldn't have picked a better companion to share the journey with me.
Six years down and I look forward to at least sixty six more.