I currently have a lot of free time on my hands. This has led me to taking up hobbies like cutting up magazines, raising a puppy…
and now baking cupcakes for no reason whatsoever.
I actually have always enjoyed baking. When I was younger I would joke about how fat my family would be because that's the only thing I was good at in the kitchen. I've gotten away from baking because I don't feel like having to buy a bigger pants size every other month but the other day I saw a recipe that I just had to make.
It all started when Martha Stewart followed me on Twitter. Don't tell Martha (although I'm sure she reads this blog because, you know, we're totally Twitter BFFs and all.) but I've never really been a fan. Not that I disliked her, I didn't have strong feelings one way or another. Well, she had to go and follow me which led me to checking out her blog and all of the sudden I'm all "Oooh! That's so cute!" and "Ah! Those look delicious." When I stumbled upon these cupcakes I just had to make them. I'm a huge sucker for toasted marshmallows in any form.
Lots of chocolate, layering, mixing and beating….
Broil for a couple minutes to get a nice toasted marshmallow look and voilà: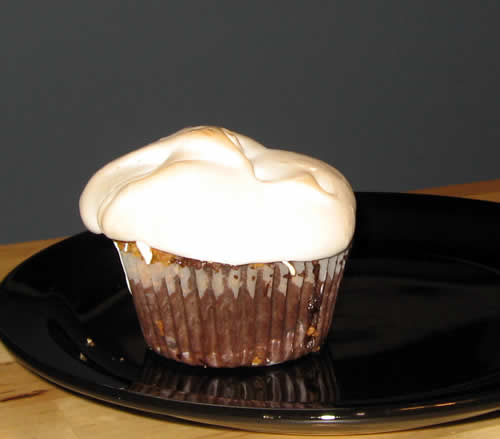 It may not be as pretty as Martha's but it tastes like a little bite of heaven. It's probably one of the most delicious cupcakes I've ever put into my mouth. No joke. Yum.