I grew up in the town where Orville Redenbocker developed his famous and delicious popcorn. Hence, the annual Popcorn Festival. With the exception of a few adult years where I was either living overseas or had to work I've been going to the Popcorn Festival since I was a little kid. It starts with short 100 meter dashes for kids 2-10. It's so cute to see my nephews carrying on the tradition.
Winners. Yay!
After that there's a parade in which a float = anything with popcorn thrown on it.
Or people dressed as popcorn. Whatever.
As a kid I remember the floats being these elaborate creations made entirely of popcorn. Not sure if I was just little and thought everything was cooler or if people got lazy because the floats aren't all that impressive anymore. Oh well, it's more about spending time with my family anyway.
See how my brother is leaning back in his chair? Despite warnings he continued doing it.
He learned his lesson though.
Once the parade was over we walked around a bit, ate some junk food and listened to the bands that were playing. Normally we'd look around at the booths as there are always some really cool crafts and things. This year it was so insanely crowded that we quickly decided it wasn't worth it and headed home. I made cake!
If you follow me on twitter you may remember tweeting about my cake wreck. See, in my head I'm this fabulous baker. Unfortunately I have very little experience and so things don't tend to turn out the way they look in my head. Remember the asshole cake? Yeah.
I do learn from my mistakes though and did not come close to losing a finger or throwing cake across the room. Win!
That's kind of where the win ends though.
What I learned this time is whipped frosting, while delicious, does not hold layer cakes together well.
Whipped frosting kind of likes to be all airfull and slidey and before you know it your beautiful layer cake looks like this.
That hole in the frosting is from me trying to push the layers back into place.
Top tip: that doesn't work. At. all.
We all got a good laugh out of it though and the really cool thing about the cake wasn't revealed until I started serving it.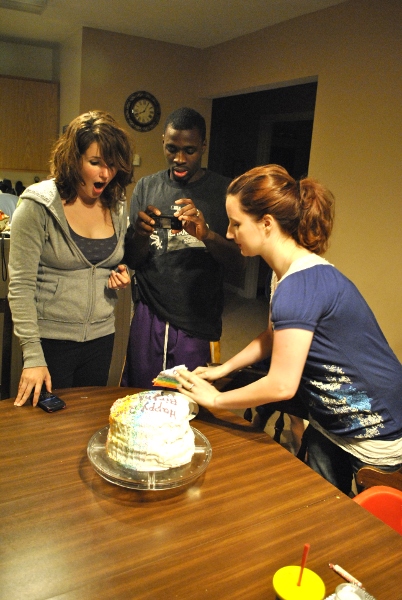 That was the reaction I was hoping for.
Ta da!
Hot mess on the outside. Awesome on the inside.
Kind of like me.