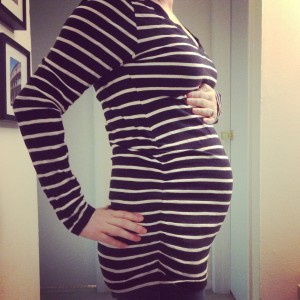 This belly is at least 25% turkey I'm pretty sure.
We've officially reached the third trimester. *Muppet flail*
I finally managed to take my glucose tolerance test which was a bit of an annoying ordeal. I mean, more than the usual annoyance of drinking a gross drink and sitting around a lab. When I was told they were scheduling me for the test I asked what I needed to know and they just told me to go to the lab. Of course when I went the first thing they asked was whether I had been fasting. Apparently I was scheduled for some weird 2 hour version of the test. Blah. Put me in a bit of a foul mood, not to mention I had to go back in on a Saturday morning. I'll find out tomorrow at my doctor's appointment whether I passed the test or not. Cross your fingers for me.
Speaking of the doctors, I'm dreading what the scale might say. On the off chance I fail my GD test I considered it my last hurrah and ate All The Things these last couple of days. Well, except weirdly pie. I KNOW. The actual food was so amazingly good at both Christmas Eve and Christmas dinner that none of us ever got around to actually eating pie. I'm investigating body snatching and other such phenomenon as we speak, don't worry.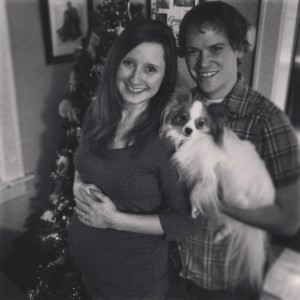 It really was a wonderful Christmas. Full of love, good food, laughter and family which is exactly how I wanted it. I'm even more excited that we'll be celebrating next Christmas with our little boy.