So that BlogHer thing is today. And since it's in Chicago I pretty much had to buy a ticket. I mean, it's in my home town, all I have to do is drive in every morning. I feel like I might be missing out on a bit of the "full" experience by not flying in and staying in a hotel. But honestly, I have an almost 4 month old baby and no one wants to room with that. Not if they like sleep I mean.
Anyway, if I meet you at BlogHer, Hi! I'm Abigail.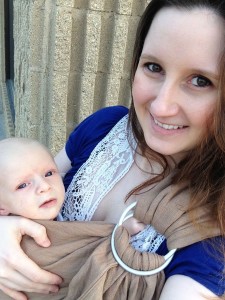 You'll find me wandering around with my firstborn son, Wesley.
Wesley is our rainbow baby. We lost our first pregnancy March 2012. While it was an early loss and we went on to have our little guy it helped to shape who I am.
Wesley was born on Easter Sunday (ten days late, stinker) this year. I haven't gotten to publishing his birth story yet, blogging with a baby is more difficult than I expected. I do weekly updates about the little guy that I call Weekly Wesley.
I'm a flight attendant but am not currently flying because I'm on furlough. I don't mind the time off though because it means I get to spend it with my brand new little guy. It's where my screen names (and my blog name) SkyWaitress comes from. You'll find me by that name on Twitter and Instagram.
So I guess that's me in a nutshell. I'm hoping this conference really inspires me to find a way to hit my stride with blogging with a baby who never really likes to be put down. Feel free to say hi or to ask to hold my little guy. He's a cuddle bug and I don't mind sharing at all.