Joel and I celebrated our 7th wedding anniversary today. Since our lives have been recently taken over by a tiny dictator…
We didn't go out or do anything super fancy.
Joel did bring me some beautiful flowers, made me a delicious dinner and poured me my first glass of wine in… over a year, at least. It was really sweet.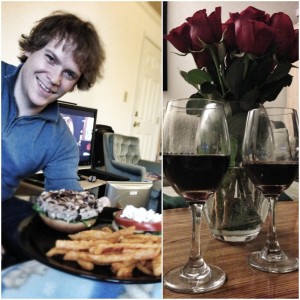 I'm not sure how I got so lucky with this amazing guy. He treats me like a queen and is the most amazing dad. I could go on and on but frankly my brain is a bit frazzled and now Wesley is starting to fuss so I won't.
I'll just say it's been a good seven years. This is the start of a completely new chapter in our lives and I'm so excited to see where it takes us. I can't imagine a better partner for this adventure.