Just wanted to start this post by saying a huge thank you to all of you who signed and shared the petition from yesterday. Plus all the wonderfully thoughtful birthday wishes. It made my day incredibly special. If you missed yesterday's post, please sign and share this petition to help my friend with a debilitating condition. She really is amazing and I want to do anything I can to help her.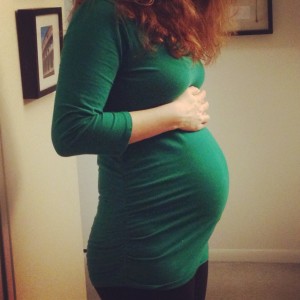 Anyway, this week was pretty low key, which was actually nice. Joel and I had no plans for the whole weekend, other than our regularly scheduled Bradley Method class on Sunday night. That meant a lot of lazing around and soaking up some of our last times together before our world is rocked by this little guy inside me.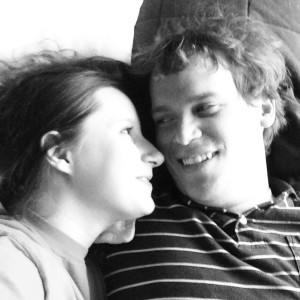 Bliss. Seriously.
Joel is getting more comfortable with talking to our little guy through my belly. It took him awhile, which is understandable honestly. I mean, if I want to talk to Baby Boy I can be as goofy or silly or serious as I want in privacy. Joel on the other hand has to talk to him in front of me. I can see how it would be awkward to know what to say. I generally try to be quiet and let them have their own time but we were trying to get Baby Boy to move for a video (seriously, it looks like alien sometimes already) and I managed to snap this during that time. It's completely candid, he thought the video's focus was on my belly and he certainly didn't know I was taking a picture within the video.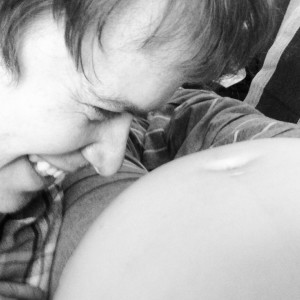 My heart practically explodes when I see it.
This kid is so strong. I know I mentioned it last week but it still surprises me. The other day he poked his head out so far into my hand it actually made me gasp out loud. Seriously, I'm surprised I couldn't see his facial expression. He is also quite opinionated. He goes nuts after I take a shower. Not sure if the hot water wakes him up or he's protesting it ending or he likes the massages he gets when I lotion my belly but no matter what time of day he has some of his most active times after I take a shower. His other most active time is when I go to bed. He often has strong opinions about which way I lie down. He has protested me laying on my left or right side so hard that I've had to roll over. Sometimes neither side is okay with him. Of course I'm not supposed to lie flat on my back and the whole, one hip propped up with a pillow position, can really kill my back. So going to sleep at night is… fun. Thankfully he has yet to really wake me up from kicking. My bladder takes care of the waking me up part.
My lower back has been feeling better thanks to this sexy thing.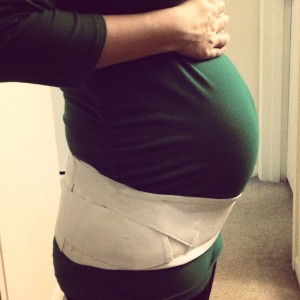 I know, down boys.
But seriously, if you're pregnant and experiencing lower back and hip pain I highly recommend purchasing one. My pain was to the point of me barely being able to walk by night time, and that's when I took it easy during the day. Joel's nickname for me is Ducky and let's just say I earned it with my pregnant "swagger." With this belt things have gotten way better. I didn't wear it yesterday and I noticed a huge difference. I only wear it around the house because it's a bit uncomfortable without a layer of clothing between it and my skin and it's not exactly the fashion statement I want to make. Still, it's been a lifesaver. This is the one I have. This isn't sponsored and that's not an affiliate link, my mom gave it to me for Christmas. I just really like it so I thought I'd pass on the information.
This weekend should be a lot of fun. I'm going out tonight with Joel to celebrate my birthday (since he had work and school all. day. long. yesterday) and tomorrow I'm celebrating with my family. Because just one celebration for my birthday? Psh.