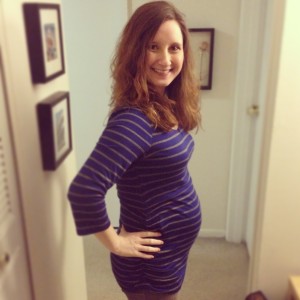 This week was pretty darn fantastic actually.
It started with a doctor's appointment where I learned that I passed my glucose test with flying colors. No gestational diabetes, yay! All my other levels are also great and I'm measuring perfectly on track.
The only crazy thing is I did not gain a single pound in the four weeks between appointments. I believe my exact reaction was, "Excuse me, what?!" I did not hold back at all in my Christmas eating and I certainly look a lot bigger. She just stated it as a fact and didn't say anything else about it so I guess it's not a concern? I should have asked but I was too busy being confused at how it was possible. I've been trying not to worry about it since she didn't say she was worried. Not going to lie though, I have been indulging in dessert a bit more often. For the baby of course.
I also hit a milestone this week. Twice strangers have asked me when I'm due. I see this as a milestone because it officially means I look for real pregnant and not just "did she eat too many cheeseburgers?" Actually, I didn't realize it had happened the first time until almost an hour later. All of the sudden I turned to Joel and said, "She just assumed I'm pregnant. I must really look pregnant now!" Still no strangers touching the belly though, I'm sure that milestone won't take an hour to sink in.
For New Years Eve we decided last minute to drive to Denver for a Five Iron Frenzy show. It was long, tiring and 100% worth it. I'll write more about it in a later post though.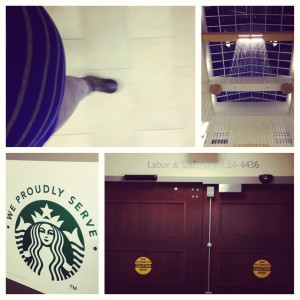 We ended the big, long, exciting week with a tour of the hospital. Oh my goodness, I could not be happier about where we have chosen to bring this baby into the world. Everything is brand new, beautiful and state of the art. Their policies are also extremely natural birth friendly. Everything, from laboring in a tub, to eating and drinking during labor, to how many support people are allowed, is just how I would want it. Even their policies on c-sections are fantastically baby and mom friendly if I should need one for some reason. I'm just so pleased and feel so confident that no matter how my baby ends up coming out it will be a positive experience.
I'm ending this post with some TMI. So if you are male or related to me or just don't want to read about my girly bits congratulations, you've reached the end of the post thanks for reading!
Okay, so those of you who are left I have a question. My belly has grown enough that I can no longer see down there. So for those of you who have been there before, how did you take care of grooming? The idea of blindly attacking my girly bits with sharp objects is quite terrifying to me. I would just go to a professional and let them take care of it but that gets expensive and I'd rather spend that money on baby things. Or brownies. So, how did you all prevent a jungle situation without butchering yourself or breaking the bank?