Joel is a wonderful person and I wouldn't trade him for anything. One thing about him that baffles me is how hard he is on clothes. I have clothes that I've owned since 1997… not that I should be especially proud of that. And also not that I actually wear those clothes (ahem) often. But I still own them and they're still in decent shape.
As far as the clothes that I haven't kept for their sentimental value, they generally last me a long time. They either go out of style or I grow tired of them. Some of them that I wear really often get that pilled up look after awhile. (Which makes otherwise perfectly good clothes look rather ratty by the way. If anyone has a solution to this me and my wardrobe would be eternally grateful.) I have one pair of jeans that I got from a friend who bought them at a thrift store. After wearing those jeans for seriously years they finally just got a hole in the knee. That is the only pair of jeans that has ever gotten a hole in them without already coming home from the store that way.
Joel is a completely different story. I swear the man goes through clothes like you wouldn't believe. It's been about a year and half since the last time we bought him jeans and he just informed me that of a dozen different pairs he has one pair left that doesn't have holes in the knees.
What. the. heck. people?!
He isn't a five year old rough and tumble boy who crawls around. In fact, I can't think of the last time I saw him crawl. He doesn't play sports. He has a desk job for heavens sake. How does sitting at a desk 40 hours a week wear holes in your knees?!
It's the same with shoes. Today he was complaining that his feet hurt after walking around all day. After taking a look at what he was walking around in it wasn't hard to see why.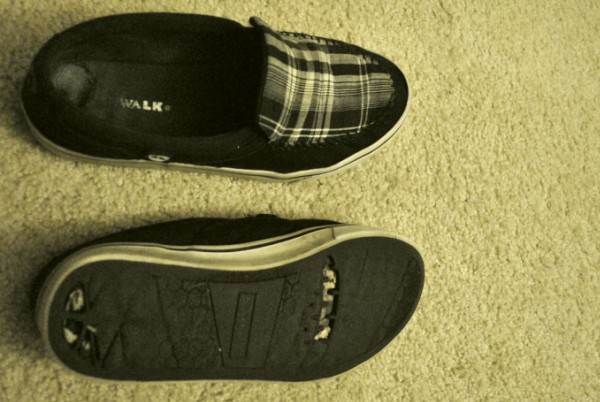 These shoes are about a year old. One year old!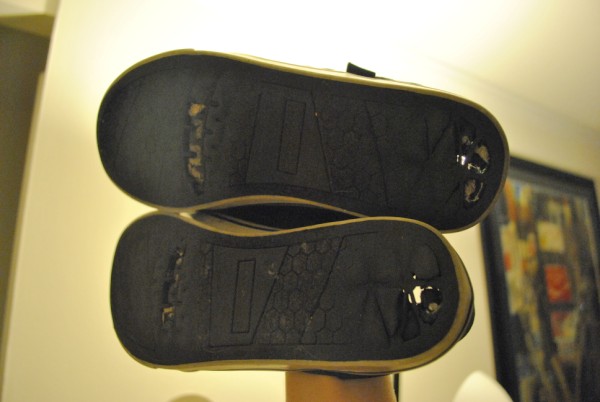 Holding them up to the light. You can see through them completely!
How does this happen? Just, how?!
I realize that I own easily twice as many clothes and shoes as he does so it makes sense that his clothes would wear out a bit faster. But this seems really excessive. Do other men destroy their clothes in record time like this? Or am I seriously married to the clothing assassin? Is there a way to prevent the massacre? I'm pretty sure I see pants and shoes alike shudder in terror as Joel walks by. Send help people. Future clothes depend on it.