Remember how I mentioned we were making our own rules for this trip? Well shortly after we braved the sidewalk portion of Route 66 at dusk we decided to hop on the interstate and jump to Tulsa for the night. We then doubled back a bit this morning to visit The Blue Whale of Catoosa.
Because how can you miss a giant blue whale in the middle of Oklahoma?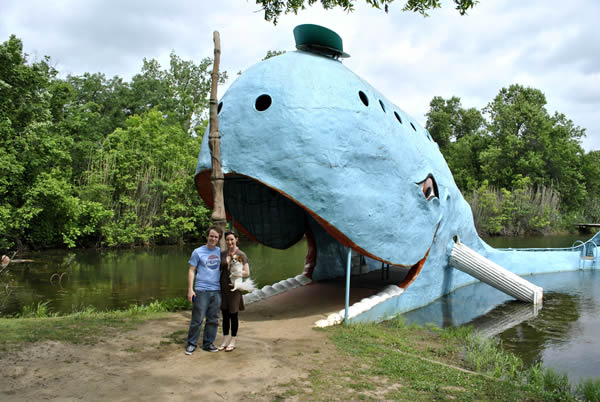 I don't know if you can tell by this picture but it was extremely windy. I originally just had the dress on but added the leggings after I stepped out of the car and promptly flashed my undies to Mr. Blue here. Maybe that's why he's smiling…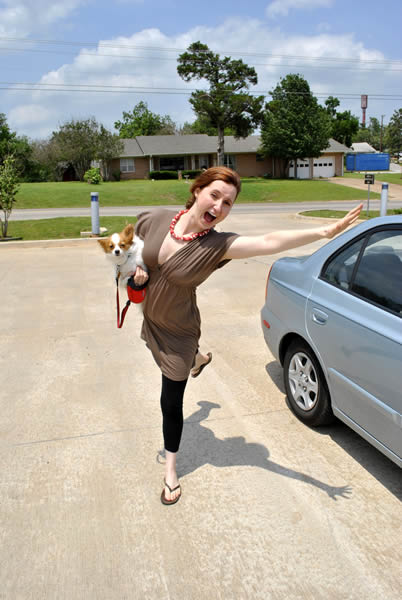 I may be cheesing it up but Phoebe's hair doesn't lie. It was windy.
There was so much to see between Catoosa and Oklahoma City that it took us almost 5 hours to make our way between the two cities. We just kept stopping to snap photos.*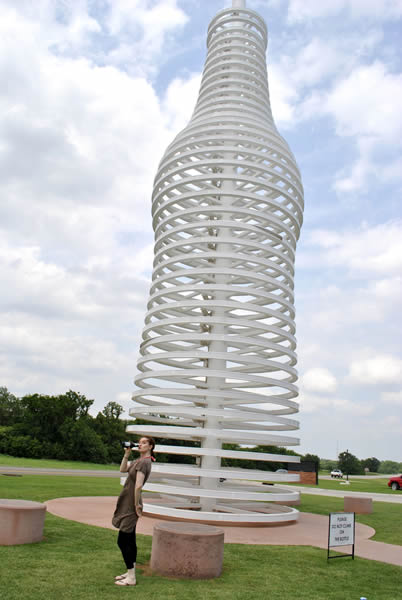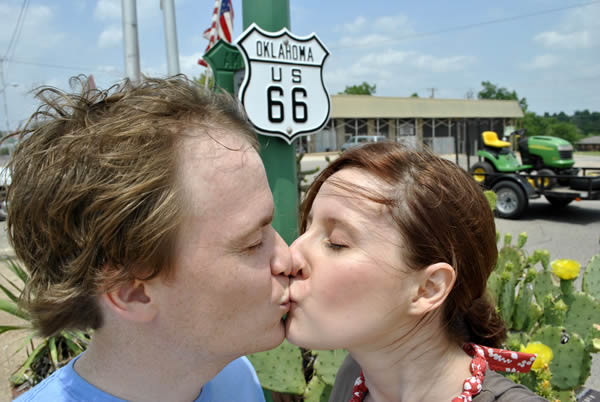 At one point we stepped out of the car to take a picture of a bridge. I just walked along the side of the road like a normal human. Joel on the other hand was tired of sitting so he ran along the dirt beside me. He happened to look down just in time to awkwardly trip/jump over a giant fire ant hill.
Suddenly he decided that I had the right idea and walked along the side of the road, eyes on the ground.
Once we got a little ways outside of Oklahoma City the scenery was mostly this: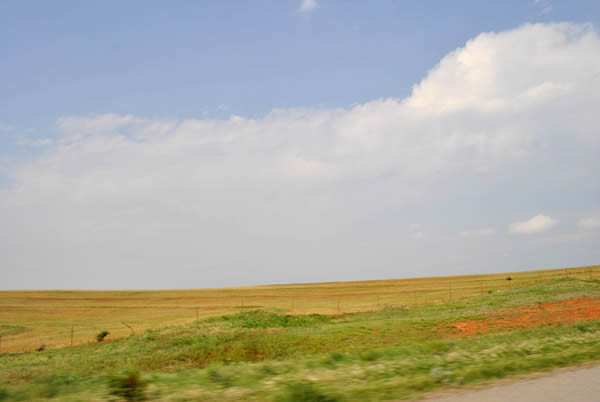 Or some slight varient.
The most excitement we had was the constant zig-zag game old Route 66 likes to play with I-40. Drive. Stop sign. Turn right. Bridge. Stop sign. Turn left. Drive. Stop sign. Turn left. Bridge. Stop sign. Turn right. Drive.
Etc.
I've never seen so many dead end roads in my life.
It kept me, as the navigator, on my toes anyway.
After what felt like forever we finally made it to Texas. Our plan was to make it to Amarillo but since we had so much fun at the beginning of the day we didn't get quite that far. When the sun started going down we decided to just find the nearest hotel and get an early start tomorrow. No point in driving if you can't see anything.
Tomorrow we hope to make it to Albuquerque by night. If we don't it means we had too much fun along the way.
And that is more than ok with me.
*In case anyone cares to get picky those photos may or may not have been taken in between Catoosa and Oklahoma City. I don't remember exactly but they were some of my favorites so there.