What a long but great day. Whew! It started at WordCamp Chicago which was really interesting. I learned some cool things and got really inspired. I also feel a lot of pressure for this to be a super awesome post. It's not going to be. Why? Because I'm exhausted. Don't worry, I did get some great ideas for my blog so I'll be making some decent changes over the next days and weeks.
At least I found out I wasn't as completely clueless as I thought. I mean, I'm nowhere near developer level or anything but I have a pretty foundational understanding of WordPress and how to blog in general. ::pats self on back::
Another thing I learned? Not being able to get internet connection on my phone and therefore barely being able to twitter makes me kind of stabby. I knew that. However, I did not realize that it significantly increases how snarky I am out loud. Apparently I need Twitter as an outlet or I just blurt out one snarky comment after the other.
Oh yeah, and? I hate AT&T.
Even though it would've been great to stay we had to cut out of WordCamp after lunch because we had a friend's wedding to attend. The wedding was totally worth missing sessions for because it was so sweet. Weddings make me feel so mushy and lovey. I'm so happy to be married ::cue aws:: The couple that got married are just the nicest people you will ever meet and they're so obviously madly in love. The wedding fit them perfectly and I had a wonderful time.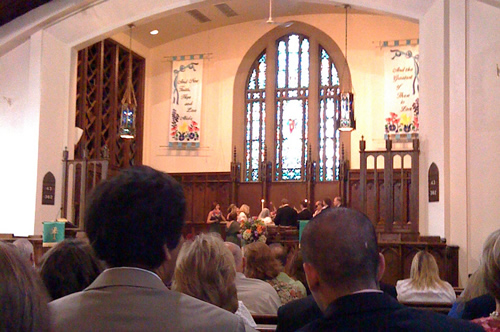 Congratulations you two!
Anyway, tomorrow is day two of WordCamp and I'm excited. It's going to be another early morning though so excuse me while I pass out.
P.S. If you're new make sure to say hi on Twitter!