Sorry, no naked picture of me here… today anyway.
Baths don't actually relax me. Sorry, but soaking in my own filth just isn't my cup of tea. Plus I've never really had a tub that I could get comfortable in. After a few minutes, I'm too hot, my neck is cramping up and I'm bored. I'm much more of a shower person. However, this post isn't about my hygiene habits. It's about what I do when I want to relax.
I'm a bit different and this is what relaxes me: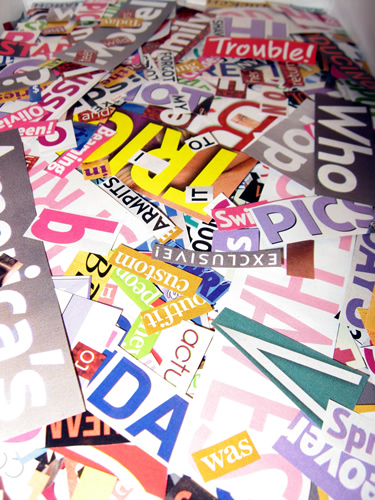 I cut words out of magazines.
As I kid my favorite thing about paper dolls was cutting them out. I'd meticulously cut out each doll, dress and accessory. I'm sure I also made up elaborate stories in my head featuring whatever character the doll happened to be of at the time. When I was done cutting though my interest died out. I didn't really have much of an interest with dressing up the paper dolls or playing with them. Once they were all cut out, they were neatly put away or given to my younger sisters.
Eventually I became too old for paper dolls. I'm not sure how or when my interests shifted from paper dolls to magazines. As a teenager I had stacks of magazines and one day I started cutting them up. After awhile I had dozens of envelopes full of words and pictures. I don't know what happened to them. They probably got thrown away once I moved out of my parents house. For years I was kind of a nomad and since there was no place to store my words my habit kind of died.
As a flight attendant one of the easiest things to do on the airplane during down time is read gossip magazines. They're not very in depth so it's easy to start and stop reading since interruptions are inevitable. Plus, people leave them on planes all the time so they're free. During my time flying I built up quite a collection. Not really on purpose, I left many on planes for other people to read or passed them on to other flying partners. Many made it home with me though. Plus, Amazon has had some really great sales on magazine subscriptions (Cosmo for $5 for a year? Um, yes please!). I now have several stacks of magazines cluttering up my house.
Since I'm on furlough I'm currently jobless. I'm looking (Ugh! Whole other story) but in the mean time sitting at home watching DVD's can get really old. In an effort to declutter and give myself something to do I've taken up my old hobby again. I'd forgotten how soothing it is. There's something about finding interesting fonts, colors, words and letters that just makes me happy.
I haven't decided what (if anything) I'm going to do with all these words yet. It seems like a waste to just stuff them in envelopes. I've thought about using them for scrap-booking (another hobby I'm thinking about taking up) and someone asked me if I planned to make cards out of them. Hey, if I don't get a job soon I may have to take up kidnapping to bring in a little extra cash. Never mind. That last ones a bad idea Detective who is reading this because someone in my neighborhood went missing. Definitely wasn't me… I'm open to suggestions though so if you think of anything be sure to leave a comment and let me know. Or leave new hobby suggestions because this one may just be a little too much proof I have OCD.