I knew eventually eating in all week would probably become more of a challenge but I didn't know it would happen so soon. I found out today was National Free Pancake Day at Ihop. I love their pancakes, especially when they're free! In my head I tried justifying it. Ya know, it was supposed to be about saving money and if it's a free meal then it doesn't really count. In fact it should be even better because it doesn't cost me anything at all… right? *sigh* I didn't give in to temptation though and held out. I can get free pancakes next year.
This morning I didn't have anywhere to be so I was able to have a normal breakfast. It wasn't anything fancy, just some cold cereal. For lunch I made Joel and myself spinach and cheese omelets. It was my first time making omelets and I was surprised that it went pretty well. It actually came out looking like an omelet instead of scrambled eggs so I was pleased.
Dinner was another story. I got a recipe for portabella mushroom burgers off Spark People. I love mushrooms and when I looked at the ingredients it seemed like it would be delicious. I didn't pay close attention to the instructions when I decided to make it though, and that was my big mistake. We bought all the ingredients yesterday and as I was preparing to make the burgers I read the recipe more closely. That's when I realized this was not going to be a quick and easy meal to make.
The recipe called for garlic, rosemary, thyme, olive oil and balsamic vinegar. When I read the ingredient list I assumed they all would be mixed together and then rubbed on the mushroom cap. Yeeeah, not exactly. What I actually had to do was this: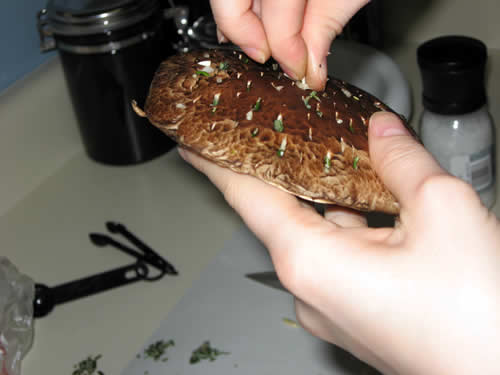 I cut little slits in the top and had to insert the garlic, rosemary and thyme into the holes one by one. It took for.ever.
Once I finally finished stuffing the four mushroom caps I brushed the oil and balsamic vinegar on them and grilled until they were tender. The looked pretty nice once they were done.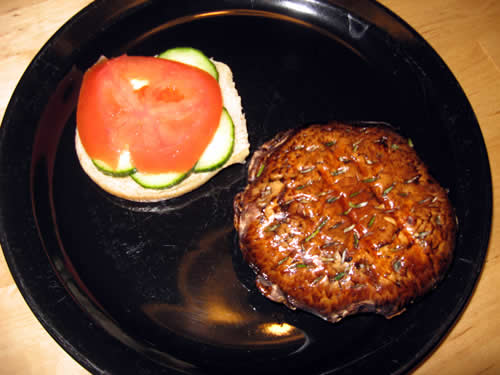 Unfortunately they weren't as delicious as they sounded and looked. They weren't awful but they were no where near worth the time it took to prepare them.
So, out of six meals at home I'm only classifying one as a fail so far. Not too bad for a girl who almost never cooks.