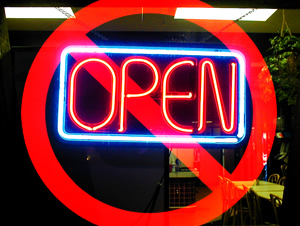 Joel and I eat out way too much. This is mostly out of laziness. I have a really bad habit of not thinking about food until I'm ready to eat. I don't tend to plan ahead and by the time I start thinking about food I'm too hungry to want to cook something. More often than not there's not much of anything in the house for me to cook even if I wanted to. This is also because of laziness, I really hate grocery shopping. Joel doesn't mind doing it but his work schedule doesn't give him a whole lot of time. All this eating out is expensive and it's been awful on my waistline.
Joel and I have been meaning to eat in more for awhile and so when the Huffington Post announced their Week of Eating In challenge I was excited. It was the perfect excuse to stay in, eat healthier and save money.
Today was day one:
On Mondays Phoebe has obedience class. Of course I stayed up too late the night before and got out of bed later than I should have. Then the shower water wouldn't get hot (grrrr) so I took too much time fiddling with that before I just gave up and took a cold shower. Anyway, all that meant that I was running out the door at the last minute so my breakfast was a cheese stick. Not exactly gourmet but it kept me from fainting during class.
For lunch I ate some leftover vegetarian chili. I got the recipe off Spark People. It was pretty good and it lasted me three meals so definitely inexpensive. Normally on Mondays I'm so hungry I pick Joel up and we grab some kind of fast food. Today it was nice to eat at home and not spend the money.
For dinner I made my Greek turkey burgers. Those are always delicious and one recipe makes seven or eight burgers so I was able to freeze half and we'll have them again later this week or next week.
So far we're off to a good start. We have all the ingredients we need for our meals tomorrow and we'll go grocery shopping for the rest of the week on Wednesday. I'm looking forward to cooking more this week. If I cook anything extra delicious I'll be sure to share the recipe. I'll also share if I have any cooking disasters so you can laugh at along with me.