Today was a much better food day and I even have a recipe to share. Since I started tracking my calories on SparkPeople I've run into some interesting problems. I thought I would have a hard time staying within my recommended calories for the day and I was right, just not in the way I thought. When I eat out I have problems staying under my calories for the day. However, when I eat in I have the opposite problem. I have to yet to follow the meal plan exactly and maybe that's my problem. I was surprised to find how easy it is not to eat enough calories every day. What I have the most trouble with though is eating enough carbs. I know, whine whine. You probably hate me now. Not getting enough calories every day is just as bad as eating too many so it's something I have to manage better.
Anyway, the food report: I woke up and was freezing this morning so I had some oatmeal. There's nothing like oatmeal on a cold morning, love it. For lunch I cooked the rest of the Greek turkey burgers that I made Monday.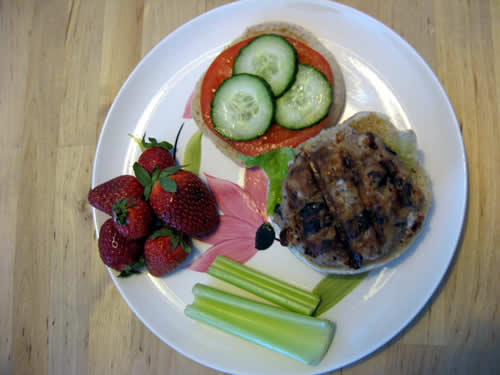 Mmmm, it was a really yummy lunch.
Then dinner I made a garden vegetable frittata. It took a decent amount of time to prepare. There was a lot of chopping and mincing vegetables. I also discovered that if I say ah! enough times while using a big knife Joel will offer to buy me a food processor. I wonder how I can make that work for other things… Anyway, it took awhile but it was delicious!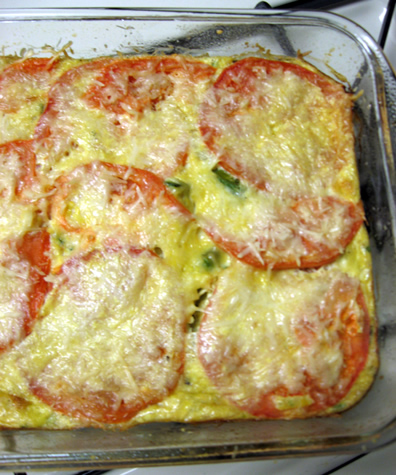 It doesn't look too bad either, does it?
The recipe calls for it to be served at room temperature but we were hungry (because it took three times as long as it should have to make due to my lack of vegetable chopping skills) so we just let it sit out for 20 minutes or so. If you would like to make this yummy, veggie-full frittata you can get the recipe here.