Joel had to work both jobs again today so I wasn't planning on being very creative with food. It always seems like a waste if I make something delicious and I'm the only one who gets to enjoy it. Well today I accidentally made something delicious. I love sweet potatoes so I thought I'd have one for dinner. I wasn't really sure exactly how I should cook them. I've made sweet potato fries before but I wanted something a little different so I did a little looking online. I couldn't really find a recipe that I thought sounded good so I decided to just kind of wing it.
I baked one potato in the oven at 350 until it was soft (it took about an hour). I'm thinking there is probably a faster way to bake a potato but I didn't feel like figuring it out. Once it was soft I scooped out the middle. I planned on just adding a little brown sugar and butter but I realized we didn't have any. Instead I chopped up some walnuts, added a little cinnamon, a dash of nutmeg and a teaspoon of white sugar. I mixed it all up, spooned it back into the skin and put it back in the oven for ten minutes. It was really yummy!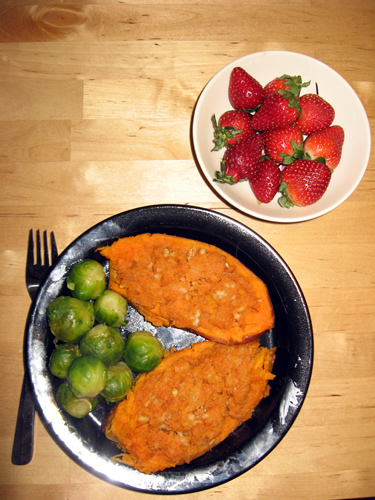 So this was my dinner. It may not look the prettiest but it was awesome.