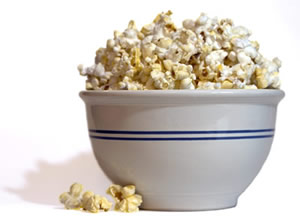 I have a problem. I am addicted to popcorn. I love the stuff a ridiculous amount. If I'm home, I eat it every day. I'll eat almost any kind of popcorn (except kettle corn, because ew) but the majority of what I eat I make at home with my own little air popper. I pour a half cup of kernels, melt a tablespoon or two of butter to drizzle on, sprinkle on some salt and I am a happy, happy girl. Until recently I was proud of my snack choice. I don't eat the microwave wave kind that is drenched in oil and fake junk. What I make at home is basically a bowl of vegetables. I mean, it's corn that is popped. Healthy! I do use butter but a tablespoon only has a hundred calories so it's not that bad. The thing is, I noticed that after several days of eating an entire batch of popcorn by myself, my clothes started fitting a little tighter. Hm… I looked on the back of the jar of kernels and it said there are 31 calories in a cup of popcorn. I only use half a cup so that can't possibly be the problem, right? It did seem awfully low though so I did a little research with the help of my friend Google. Oh! That's 31 calories for a cup of popped popcorn. That's different. Well how many cups can there really be in a batch? I decided to measure just to make myself feel better.
One, (Wow, not much fits in a cup!)
two,
three,
four,(Maybe it meant for me to pack this popcorn in the cup because there's not much of a dent in this bowl yet.)
five,
six….
twenty.
Twenty cups of popcorn in a batch. Oh boy. That's not hard math, 31 x 20 = 620 calories in my "healthy" snack. That's not even counting the butter which adds a nice hundred calories or two. So, in total I have been eating 720-800 calories every day as a snack. Dear lord, it's a wonder I fit into my clothes at all!
Now, those of you who know more about calories and nutrition are probably laughing at my naivety. I probably should have known better since something that big and delicious couldn't possibly have been a low calorie snack. It was fun while it lasted. I'm still going to enjoy the occasional bowl of popcorn because it's way too good to give up altogether. However, I have learned once again that everything is good in moderation. Even a "vegetable" like popcorn.