No, I don't have any announcements that include morning sickness and weight gain. Joel and I got a little baby girl this past May. She weighed just an itty bitty 2lbs when we brought her home. She soft and furry and the cuddliest little thing you've ever met. Introducing…
Miss Phoebe Lou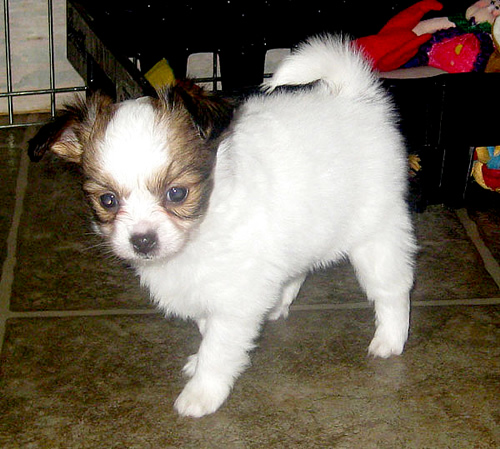 Here she is at about 5 weeks old.
When we went to the breeder (Country Pups in Durand, Il) to look at the litter there were four female puppies. One was already spoken for so we had our choice of the other three. They were of course adorable, as all puppies are, and we took them out of their box to play with them to see if we felt a special connection with any one of them. After awhile, one by one the puppies got sleepy and whined and scratched at their box to get back in. Except Phoebe that is. She crawled into Joel's lap and curled up and fell asleep. Just like that we were both in love. So while we may like to think we chose her, I think it's much more fair to say that she chose us.
At eight weeks we brought her home.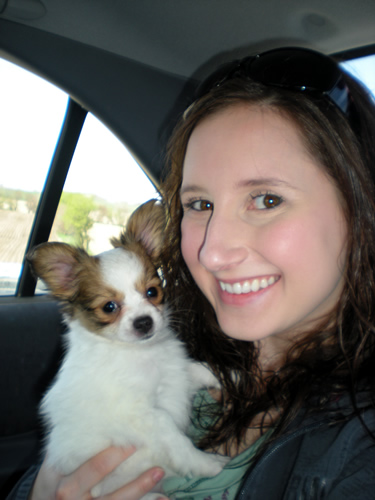 So tiny!
It's a two hour drive from the breeder's to where we live but she was a good little girl and didn't even pee on me!
Here are a few highlights over the past few months.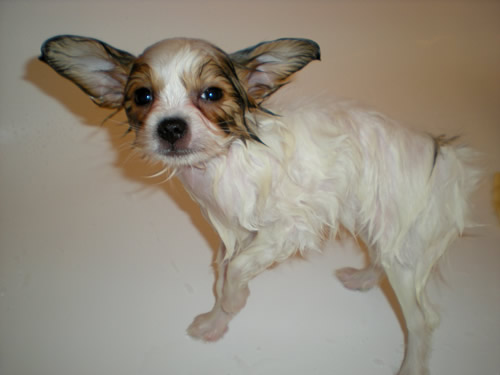 Her first bath. She hated it, lol.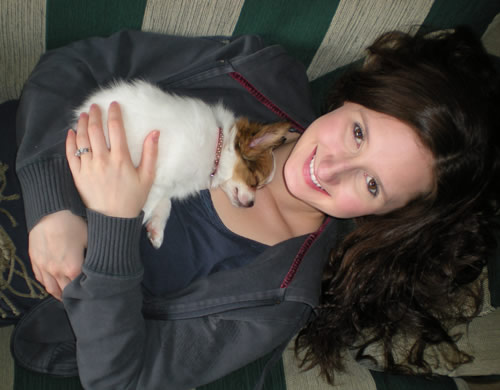 She seriously is the most cuddly puppy I've ever met.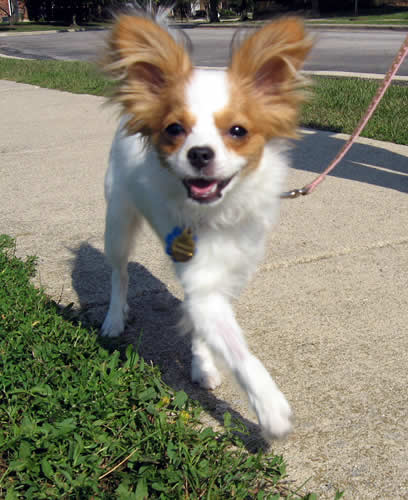 She loves going for walks. She has finally stopped eating ev.ery.thing. in sight.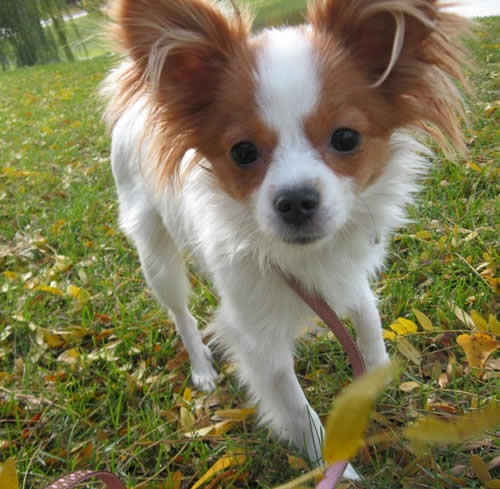 Look at that sweet face!
She's now almost eight months old. I can't believe how fast she's grown and turned into this sweet little dog! She's still super tiny, my best guess is she's about 3 1/2 – 4 lbs. However, she's not one of those obnoxious, yappy little dogs. In fact, she barely barks at all. Everyone who meets her loves her, even people who don't like little dogs.
Her only fault is she's not 100% reliably housebroken. I blame us for that since we tried to litter box train her at first. Yeah… she's a dog… that was a bad idea. Anyway, at about 20 weeks we stopped that and are still retraining her. She's pretty good about going outside but she's not good at telling us she has to go out. *sigh* If anyone has any advise we're more than open to it!
Other than that I couldn't ask for a more loving, well behaved little baby dog. I'm sure you'll be hearing more about her in the future since she goes with us anywhere she's allowed. So now you've been introduced and I hope you grow to love her as much as we do. She's our baby and we're super lucky she chose us.